🕑 :
2
minutes
Responsible Tourism: a self-obligation for all the links of the chain!
We have stopped counting the alarming articles about the species extinction, the melting of the Antarctic ice caps and global warming. However, despite the scientists', NGOs' and associations' sirens, what is happening? Who can do something?
It's you, the tourism players at all levels — tour-operators, restaurant owners, hoteliers, guides or rental companies — who can do something to join responsible tourism!
Why? For these 6 following excellent reasons: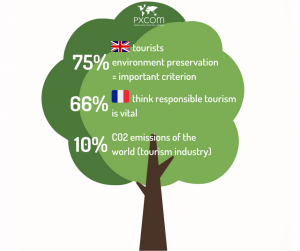 1: Because it is your branch
Imagine Kenya or Tanzania without animals, or heavenly islands without trees or flooded, or far-off destinations you can't visit due to the high poverty rate… a nightmare, isn't it? Because the beauty or the world, the landscapes, the biodiversity, the natives' warm welcome are your raw material. To prevent your branch (also in the meaning of the sector) you are from breaking, supporting a new type of sustainable and responsible tourism is essential.
2: Because the UN counts on you
The UN made 2017 the year of sustainable tourism. An efficient way to catch people's attention, to engage a process, set goals and hand the reins to the tourism players — the trust the UN has for this sector to fight for supporting responsible tourism is honourable.
3: Because your customers ask for it
Studies show it: 75% of the British travelers make the environment preservation an important criterion in their destination choice, when 66% of the French think "responsible tourism is vital". Responsible tourism is currently becoming prevalent all around the world, and has therefore become an economic stake.
4: Because it is very easy to be more environmentally friendly
Tourism is responsible for almost 10% of CO2 emissions of the world. But this means that its lever force to reduce these emissions is big, including very simple solutions.
Restaurant owners, do you want to waste less and be more environmentally friendly? This article, full of simple gestures to do adopt, is made for you.
Tour-operators? Make your customers walk and pedal, they will love it!
Car rental companies? Invest in the electric, it is becoming prevalent.
Hoteliers? Try not to wash your bathrooms towels daily, your customers will appreciate it
5: To win prestigious awards
Some tourism players create networks to facilitate mutual actions, like ATD (sustainable tourism players) or the Responsible Tourism Institute. Moreover, some labels are being established, such as the Green Globe to give more visibility to the involved ones. Since 2017, it is now possible to win awards, such as the Sustainable Tourism Awards, where you have until the 15th of September 2018 to apply.
6: Because we only have one planet!