🕑 :
3
minutes
Wellness tourism: when traveling meets relaxing
Wellness tourism does well. According to Atout-France, its annual growth is about 7%, but since this tourism is not a short-term trend but a long-term one, its growth is constant and stable.
What is hiding behind this tourism? How tour operators, hoteliers, restaurant owners and other tourism experts can meet wellness tourists' needs? Knowing that, according to a Global Wellness Institute study, these specific tourists are ready to spend 61% more than regular tourists. 
Wellness, health and tourism
The wellness concept is ancestral in the East, but is much more recent in the West. It directly answers to the increased stress of our productivity, performance and profit-based society. In opposition to our current society, the wellness tourist wants to take his time, to be in harmony with the others and the environment, and to have a healthy lifestyle, even when he is far from home. With wellness tourism, forget about bus tours, on the run visits, meals in fast food restaurant chains, overcrowded places and nightclubs.
Of course, when we deal with wellness in tourism, thalassotherapy and balneology come to mind. Nevertheless, these two activities are already prevalent, you need to think about new services — and promote them — to appeal to wellness members, by keeping the authenticity and the experiences where body and mind are equally used.
Develop environment-related activities
The wellness member is highly convinced that the environment has positive therapeutic effects on the physical and mental health. Does your hotel have a park? Create a vegetable garden and offer gardening activities. Are you a tour operator? Add forestbathing, that's right « forestbathing », like sunbathing or shinrin-yoku in Japanese. By the way, Japanese do forestbathing for almost 70 years. Forestbathing consists in walking in a forest using your 5 senses — capturing the different shades of green, ruffling the trunks, smelling the moss, listening to the wind and birds, and eating edible berries.
Create Zen environment and leave marked paths
Wellness tourism avoids crowds! As restaurant owners, you should consider creating a Zen, green or authentic mood but also some calm spaces, demarcated by bamboos and foliage plants. It will attract wellness tourists right to your place! As tour operators, you should take the wellness tourist where the others don't go, event to a least spectacular place and even if you have to trudge a little bit to get there (on the contrary, il will make him happier). Hoteliers, your spa is an important advantage.
Add a soft sport dimension to the touristic visit
Walking into small groups is a very good thing regarding wellness, rather then being crammed in buses. As part of wellness tourism, you should offer excursions that requires body efforts, but not too much. Activities such as hiking in wineries, city tours by electric bikes, horse riding along the seaside rather than by 4×4 are good example, unless you they are done in small groups!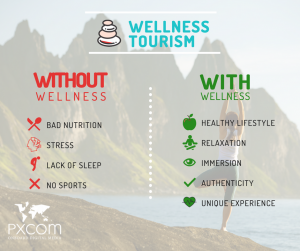 Offer spiritual activities such as yoga, tai-chi and meditation
Wellness tourism is closely linked to meditation, yoga or tai-chi. Do not hesitate to offer wellness tourists these activities in your place, or in partnership with a local collaborator. However, full-consciousness meditation is an activity in which altruism is above all. Retention is therefore what you must develop rather than the revenue.
Offer a healthy diet
Wellness tourism is about giving importance to your health and your diet. The wellness tourist has a healthy diet at home and wants to keep his diet when he travels. In your menus, do not neglect organic meals, smoothies or vegetarian plates. Moreover, you must communicate about your raw materials' origin (meats, vegetables…) mostly if it is something you are proud of, since this audience strongly cares about it!