🕑
2
min
Summer 2018: the innovation to avoid a bad tourism report
European tourism experts and analysts already forecast a good tourism report for the sector for 2018 since January, even better than the year 2017.
As summer comes to an end, have these promises of a 4 to 5% growth of tourism in Europe been kept? What tourism report for 2018?
Tourism got off to a flying start in the beginning of the year
If we analyze the World Tourism Organization's first official numbers, published in a press release in June 2018, we can see a flying start for the tourism industry. And it is even better than expected, or at least concerning the first part of the year.
Between January and May, the tourists flux in Europe increased by 7% compared to the same time in 2017, 2 to 3 points higher than the already optimistic forecasts, and 1 point higher than the World's growth (6%). In this race for the most visitors, Europe is in 2nd place, behind Asia-Pacific (+8%) and ahead of Africa (+6%).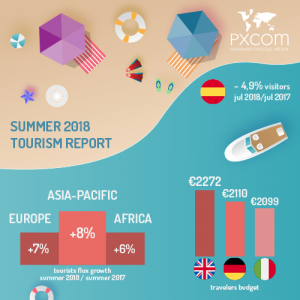 A mixed tourism report for France and Spain
In summer, the strong numbers are still missing to confirm this success, but the forecasts remain positive. Of course, this growth is not equal from a country to another. Greece takes the most advantage of it, and for good reason — as it is finally out of its financial supervision, it attracts tourists again with purchasing power. Indeed, even if the prices surged of 24% due to the new taxes linked to the austerity plan, the visits beat records.
Spain — the most privileged destination of tourists that don't want to spend a lot of money — doesn't play its cards as right as it used to. In July, it lost 4.9% of visitors compared to July 2017. Is this bad month of July the sign of a slight loss of impetus? Maybe, since France also has a mixed tourism report, according to Europe 1, with only a 3% sales revenue growth for the tourism experts and a small decrease of 0.2% for provincial hoteliers.
Keeping on innovating to insure the growth in fall
Don't rest on your laurels! The 2 most favorable seasons for tourism — spring and summer — being behind them, tourism experts are wise to rely on innovation to attract tourists off the beaten track of the sunny holidays. How? By targeting new Bleisure members for business travelers or sustainable tourism activists that avoid the crowds, favoring the off-season. What can boost your tourism report!
What is the Europeans' travel budget?
Even if it's too early to analyze the travelers' real expenses of this summer, a study led by Cofidis at the YouGov Institute in April 2018, gives good forecasts. The British are the biggest spenders with a budget of €2,272 for their summer holidays, ahead of the Italians (€2,110), the Germans (€2,099) and the Spanish (€1,940). With a bigger purchasing power than the latter, the French and the Danish appear thriftier!