🕑 :
3
minutes
Catch tourists' attention with inflight digital advertising
A recent study conducted by the Organisation Mondiale du Tourisme (OMT) shows the volume of tourists wishing to travel with the plane in the years to come. This traffic is expected to increase from 1.1 billion passengers in 2010 to 1.8 billion passengers by 2030, an increase of 64%.
This new audience linked to the new technological means, allowed the growth of advertising in airplanes. This wonderful opportunity for increase his own branding, is yet not correctly used and unappreciated. With all new digital touch-points in planes, promote your activity has never be so simple. 
What are the new assets to communicate differently like the Inflight Magazine?
PXCom would like to help you by explain the 3 most important digital assets to target and reach a carefull audience during their flight.
1 – The Destination Guide
During their flight, passengers navigate on the airlines inflight entertainment and can access the various section in the Destination Guide like Do&See, Shopping, Activities etc… Advertisers can easily create a personal space and upload many type of content (photos, videos, description, call to action) in order to promote their activity. After seeing your content, the tourists can download your coupon or reserve their purchase like tickets.
You can manage your activity and learn more about your audience with our specific dashboard (country, from which airlines, CPM, CPC)
The Destination Guide allows to meet passengers expectation on the fact of being able to organise their travel before to arrive at destination (SITA study). They want to optimise their time during the flight for prepare their stay upstream.
2 – Digital Inflight Advertising
Formerly reserved for international and luxury brands with famous Magazine Inflight, the digital inflight advertising democratizes the communication in planes by give more advantages. The content variety and the targeting quality allow you to get a real impact. This campaigns are completely customizable and flexible. You can very well imagine several contents according to the seasonality and according to the targeting. However, this lever remains little used and little known because of its recent arrival.
Ads Formats :
Videos pré-roll and interstitial

Pre-roll and Intersticial video
The digital inflight advertising is particularly efficient because the travelers are in a favorable contexte and are more carefull.
Testifies, this exemple from the inflight Coca-Cola campaign where we can see the results about the interstitial vidéos. As you can see the CTR is average the 13% ! Coca-cola arrives to catch the passengers attention and drive trafic on their inflight website.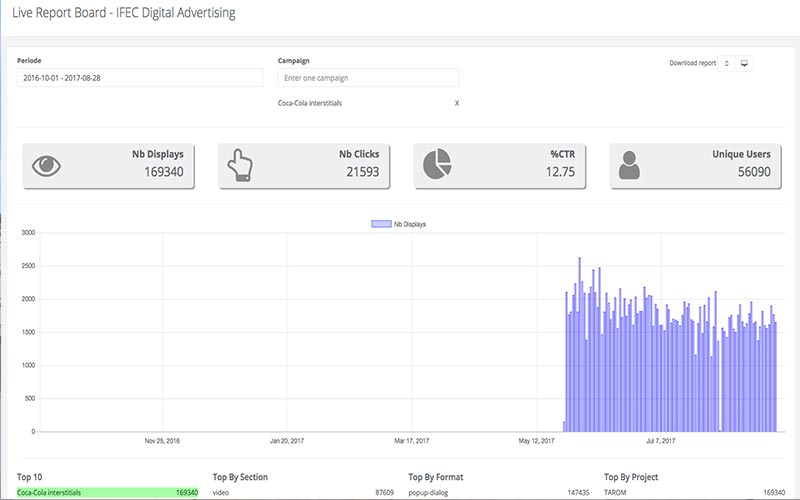 PXCom Dashboard from the Coca-Cola campaign 2017
3 – Your Mini-website
Minisite is more effectives if he was used with some digital inflight advertising. He is also the landing page were arrived your audience arrive after clic on the banners or videos. We advice to have both for increase your results.
This section will allows you to present different types of content (vidéos, HTML5 games, photos, description, product catalogue…) and describe in details your activity. This minisite can engage directly your audience. Indeed, you can propose a Call to action for download a coupon and redirect them in your store or website. The passengers can prepare their stay and reserve your products ou services.
Advantages :
Premium communication
Carefull audience
Easy to manage many contents
Flex content when you want
Adapt easily your promote
Offre a unique user experience
The exponential growth of advertising in airplanes will enable tourism operators to communicate by different ways. She responses to a request from passengers that is to be able to take care during the flight and prepare their stay.